The legal hemp flowers industry is an emerging and dynamic reality with many different players. However both small and big companies agree on one aspect: packaging is a fundamental tool in a branding strategy and it is also a crucial element in the purchase decision process. In the article you will find all the information to meet in a quick and flexible way all the needs of this industry, not only technical ones but also related to marketing and communication. 
Find out how to make a unique and distinctive packaging in a blossoming market.
Materials with a barrier? The key to a qualitative packaging for hemp flowers!
The keyword is protection!
Hemp flowers have organoleptic features – such as the distinctive aroma or the texture of the flowers – that are fundamental in the customer's decision process. These features need to be preserved with high barrier materials. In the packaging industry, the two most common barriers are the EVOH barrier, that ensures protection against oxygen and moisture, and the aluminium barrier that protects the product also against heat sources and light.  
All of Flexie's coated materials have a high protective power. Specifically:
– Glossy, glossy transparent, matte, matte transparent, recyclable, recyclable transparent and recyclable paper materials are perfect to pack hemp flowers because they grant maximum protection against oxygen and moisture, thanks to the internal EVOH barrier; 
– Paper and aluminium and metallic materials, thanks to an internal aluminium barrier, grant additional protection against heat and UV rays.
The aluminium barrier is one of the most requested to pack hemp flowers. However, as mentioned before, also the EVOH barrier is perfectly suitable for this type of product, therefore the choice of the right material can be made freely, also on the basis of aesthetic preferences.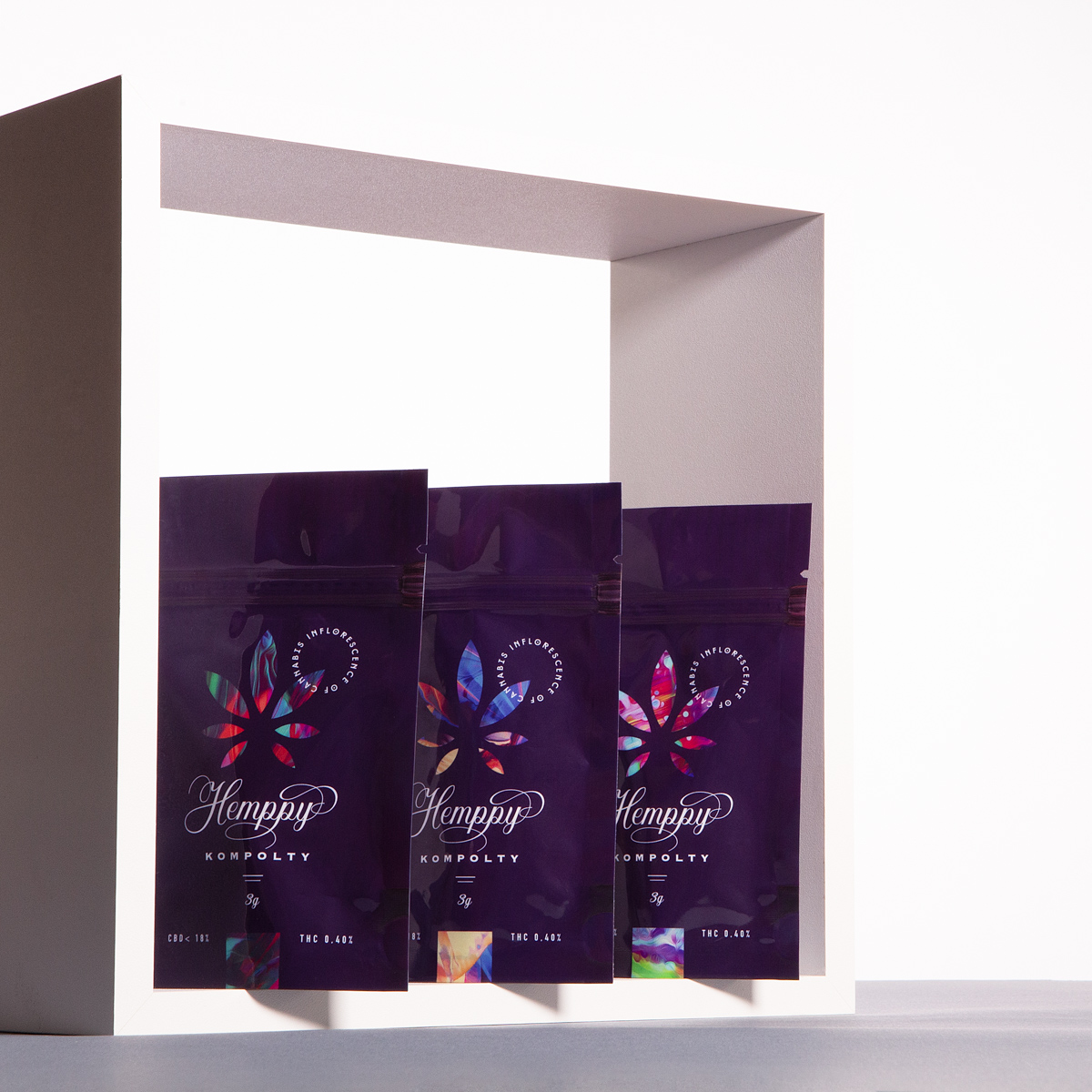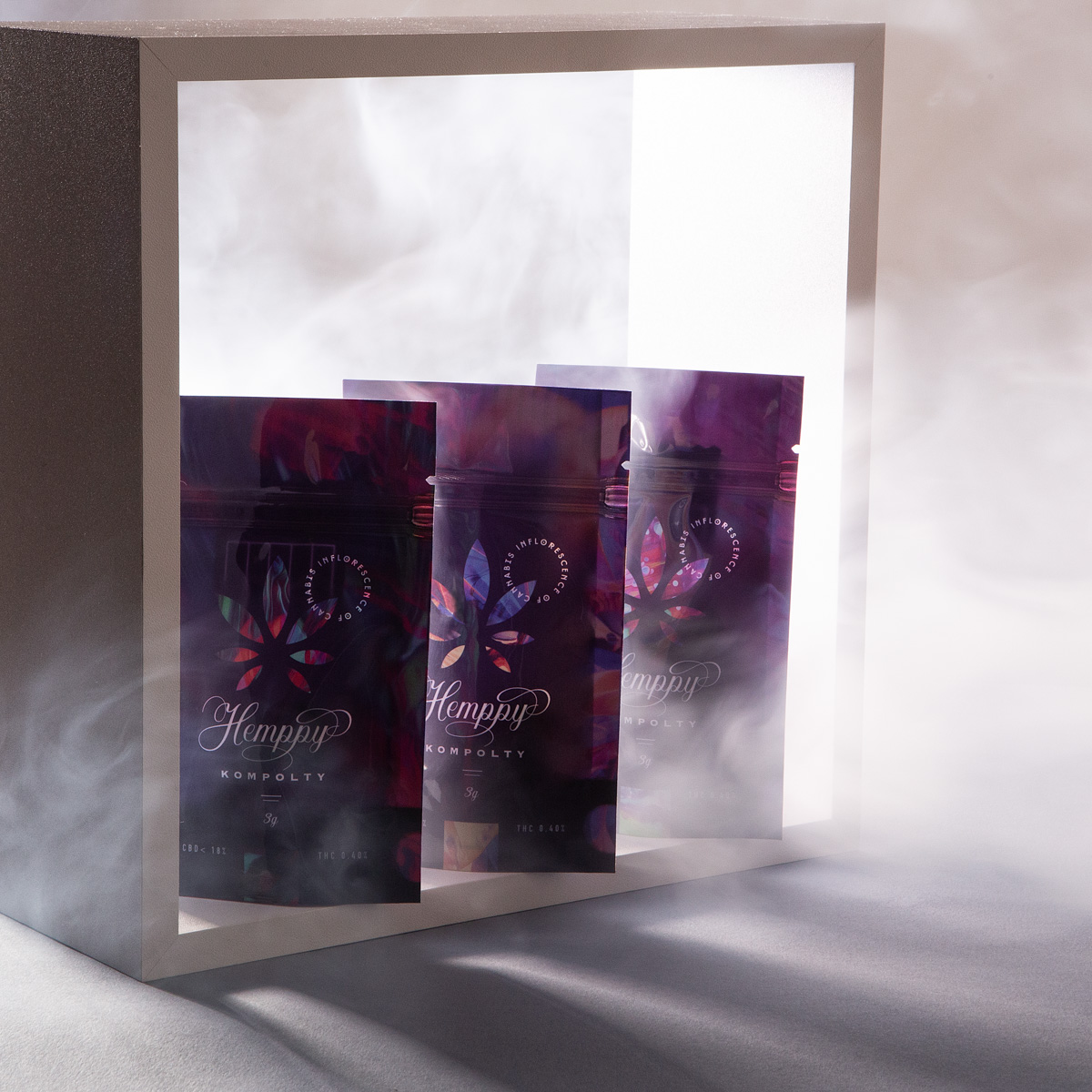 Stand up pouches and flat bags: the most popular sizes for hemp packaging
Nowadays a lot of businesses choose this kind of packaging. Why? Not only the pouches are ideal to optimise space at every stage of the supply chain but they are way lighter than other types of packaging (a really beneficial feature for an on-line store) and customisable with useful extras. Think about the ziplock that makes it easy to reuse the product over time or about the eurohole that allows to display the product on stands or other supports. 
Let us give you more details about this.
Stand up pouches are perfect for hemp flowers because:
They ensure maximum exposure on shelves and stands as it "stands on its own";
They have a distinctive and innovative appeal. They can be completely customised by adding a custom design also on the bottom gusset. 
On Flexie the most used size for hemp flowers is the 9x15x6cm stand up pouch, usually selected to pack 1 or 2 gr, and the 12×18,5×7 stand up pouch, used to pack 3 or 5gr.
Flat pouches are perfect for hemp flowers because: 
They grant space optimisation and ensure great capacity;
They are easy to display on stands thanks to the eurohole.
On Flexie the most used resealable flat bag sizes for hemp flowers are 7x12cm and 8x14cm.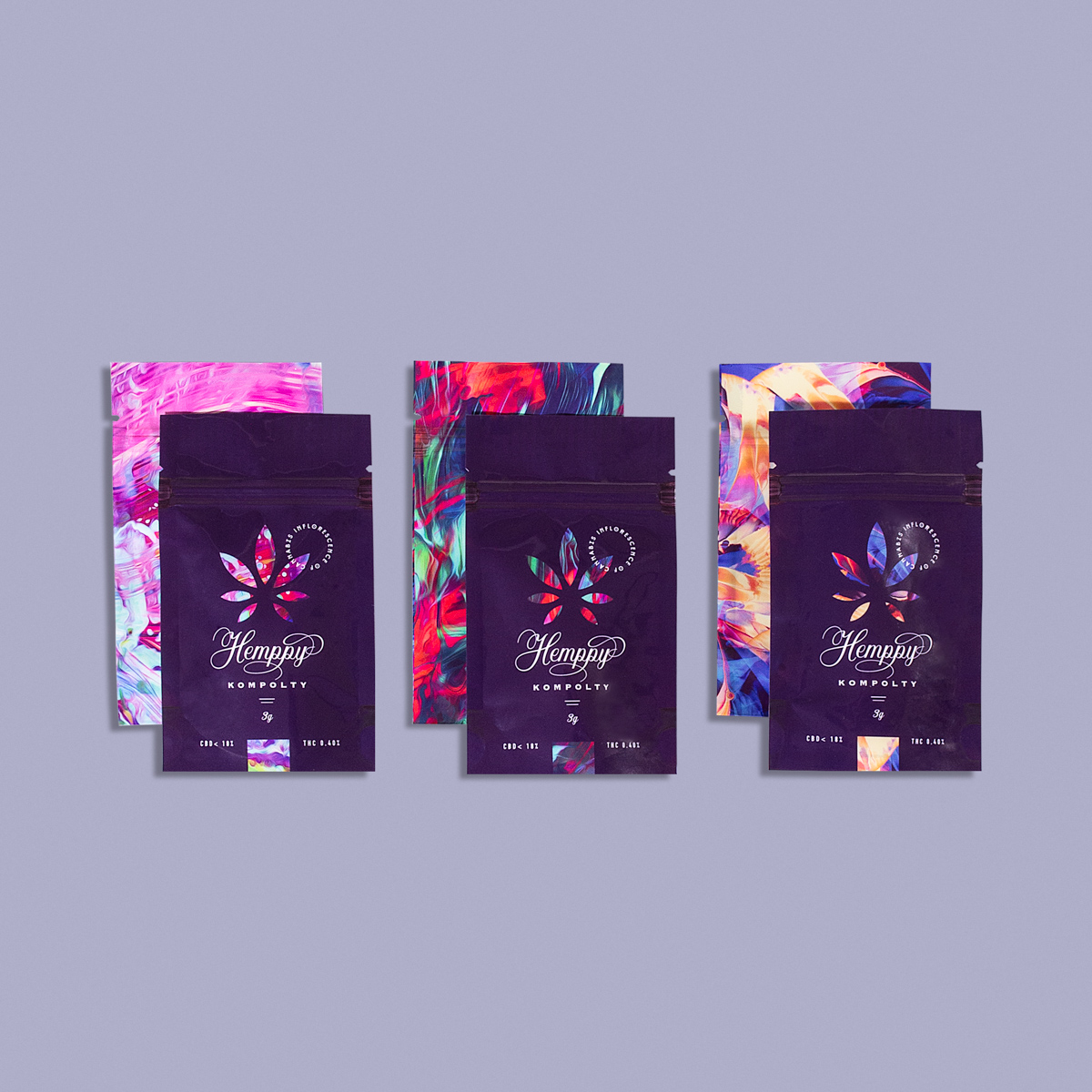 The industry is constantly changing, and so are its rules. Choose to keep up!
Last minute labels? Not a problem anymore!
Too many companies are still choosing clear unprintes pouches with label, because they are not familiar with the opportunities and technologies that grant a high level of customisation, without affecting final costs.
If you are a hemp producer, it may have already happened to you to use labels on your packaging that, not only represents an additional cost, but they also limit the aesthetic rendering of the product.
It is often necessary to add a disclaimer, updated regulations (such as the THC and CBD percentage allowed) or simply more product information, such as the production batch number. Digital technology allows you to  make quick changes to your design, reducing lead times and costs, speeding up the time to market. 
Packaging for hemp flowers without compromises
In a highly competitive industry, such as the hemp flowers one, digital printing is an innovation in the packaging market.
Farewell minimum order quantity!
Thanks to the absence of printing plates, there is no limit related to minimum order quantity. On Flexie it is possible to make the custom pouch of your dreams from only 10 pieces. A real revolution!