Ground, beans, macchiato, americano: Whatever your taste, start your day with a boost sipping a nice cup of coffee! We talk about a ritual that puts together millions of people, a product which is one of the best sellers in the world.   
For this reason we offer you an innovative solution to make the pleasure of coffee even more special. In fact, using a Stand up pouch to pack coffee means choosing flexible packaging, that offers a lot of advantages compared to traditional packaging: it is characterised by a great product/packaging rate, as it is composed of less material granting the same capacity. What does this mean? A smaller and lighter coffee pouch that gives the possibility to reduce delivery and storage's costs. 
That's not all: the useful ziplock makes it easier for the final consumer to use the pack, as he will be able to close the pouch after repeated use avoiding coffee to lose its distinctive aroma.
Stand up pouches: the right pouch for your coffee!​
Nowadays the role of packaging for coffee is very important from a communication point of view. Stand up pouches give you the opportunity to have a wide surface that is entirely customisable and to add many features to make it even more functional. 
Coffee pouches can be resealable, thanks to an aroma-saving ziplock that allows you to reseal the pouch after opening it. This means that you won't have to put coffee in another jar to store it and the pouch will be saved from the waste bin and nicely exhibited on one of your kitchen shelves, ready to be reused. 
But that's not all,  because stand up pouches for coffee can be made with materials coated with aluminium to improve the product's shelf-life and grant maximum preservation to the product. The aluminium barrier preserves the product against UV rays, water, light, oxygen and moisture: coffee will keep its organoleptic properties intact and it will retain its aroma for a long time!  
But the real innovation is the possibility to customise it, with the most up to date digital printing technique. Indeed, today it's possible to print coffee packaging with different designs (multi-subject, mosaic printing) without running into high costs and with quick lead times. It is possible to set up targeted campaigns (e.g. custom packs for each customer), special editions for a celebration or  packaging that highlights the different features of a product, for example different coffee blends or aromas. 
In conclusion, stand up pouches are an innovative solution as they join practicality, efficiency and creativity, fundamental elements for whoever is trying to be different and to highlight the value of their product, in particualr in an industry that is getting bigger and more crowded every day.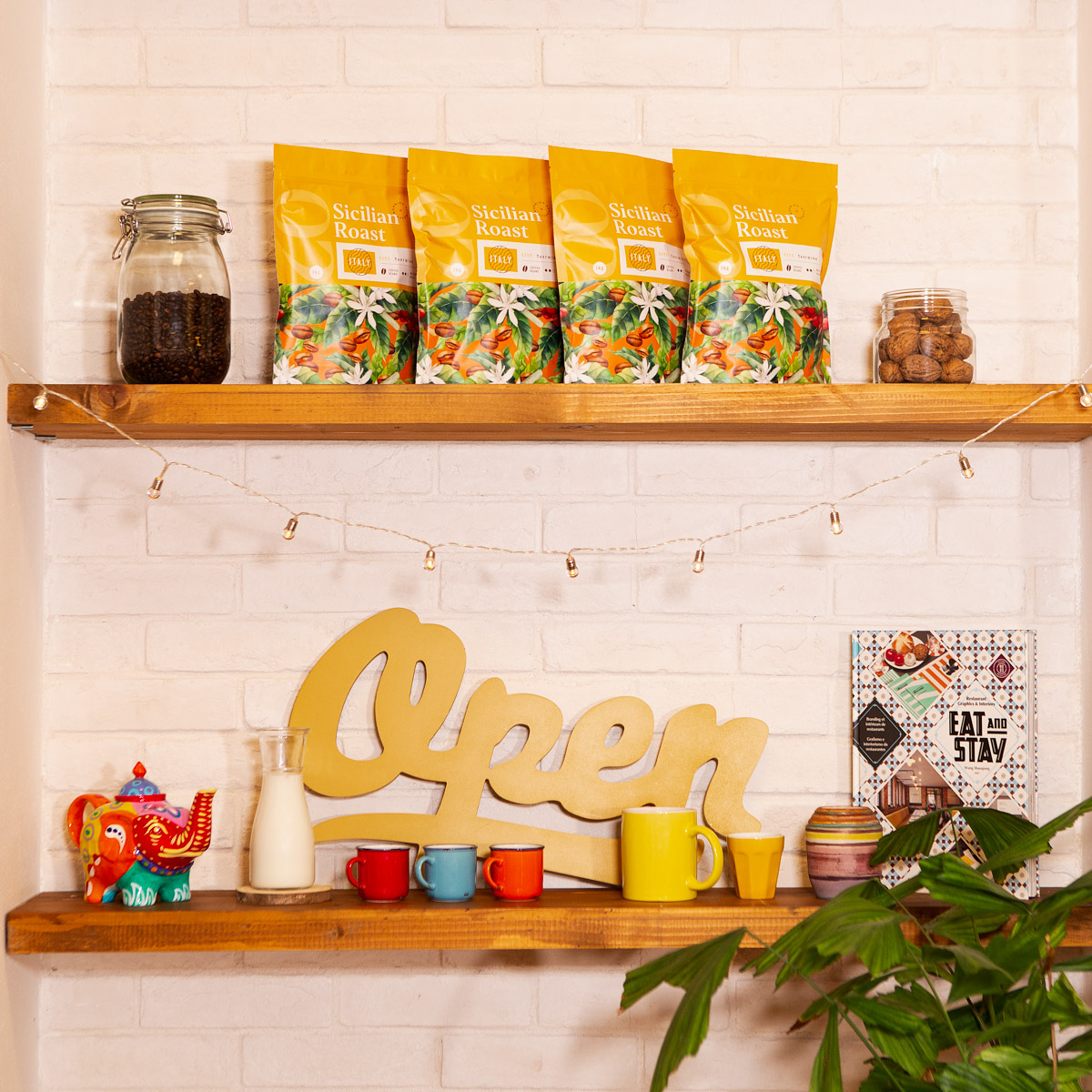 Stand up pouches for coffee in paper and aluminium material​
The proposed material  (PAPER AND ALUMINIUM) makes a good neutral base for the design and allows to make unique custom pouches. Moreover, the extarnal layer in paper grants a nice texture and gives an extra and special touch to your coffee pouches . This material is equipped with an aluminium barrier, that as mentioned before, preserves your product against UV rays, oxygen and moisture. 
Stand up pouches for coffee in metallic material ​
The metallic material, always equipped with an aluminium barrier, is a good alternative to the paper aluminium one. This material, allows you to get a glossy finish and/or laminated effects on some parts or on the whole surface of the pouch. The right choice to make a design with golden or silver effects. 
How to make your coffee pouch on Flexie​
Coffee beans
 250g pack – Stand up pouch 16x22x8cm or 18x21x8cm
350g pack – Stand up pouch 18x27x8cm
500g pack – Stand up pouch 22x27x8cm
700g pack – Stand up pouch 22x31x8cm
1kg pack – Stand up pouch 26×29,5x8cm
Ground coffee
250g pack- Stand up pouch 16x22x8cm
350g pack- Stand up pouch 18x21x8cm
500g pack- Stand up pouch 18x27x8cm
700g pack- Stand up pouch 22x27x8cm
1kg pack- Stand up pouch 22x31x8cm
1,25kg pack – Stand up pouch 26×29,5x8cm